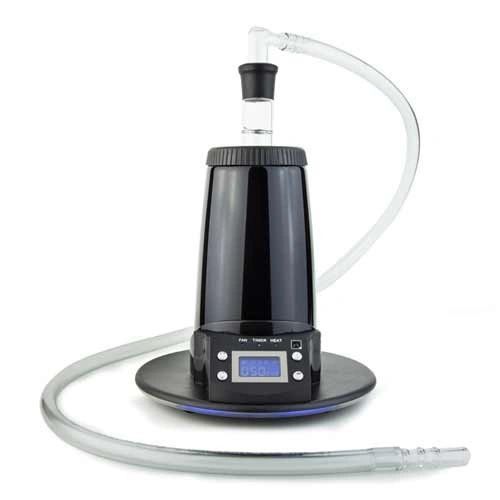 Arizer Extreme Q
Key Features
For Aromatic Blends
2 Vaporizing Options: Whip and Balloon
Glass on Glass Vaporization
Remote Control
Precise Digital Temperature Control
Maximum Temperature 260C
Full Description



The Arizer Extreme Q vaporizer is the ideal choice for individuals in search of an desktop unit with all the "bells and whistles." This Canadian made desktop vaporizer has it all, ballons for group vaporizing, whip for convenience, potpourri option and even a remote control. This is also a great stationary for individuals who not only want a lot of options, but also fantastic temperature flexibility. The value that the Extreme Q vaporizer offers is outstanding.
 Package Details

Extreme Q Vaporizer
Power Cord
2 x Glass Cyclone Bowls
2 x Glass Mouth Pieces 
Glass Potpourri Bowl
Remote Control
Glass Stir Tool
2 x Replacement Screens
2 x Glass Fittings
2 x Inflation Balloons
3 ft Food Grade PVC Tube
All Glass Mini Whip
User Guide
Components Quality
The dual wall stainless steel housing works to reduce internal heat and keep the unit as cool as possible. Internally the unit is insulated with a safe non-toxic insulation. Attached to the desktop vaporizer's stainless steel housing is a digital display control panel. Temperature control can be managed using Celsius or Fahrenheit. The display comes in cool blue lighting. This vertical design vaporizer with a ceramic heating element encompasses many hours of testing to create a filling chamber and whip combination. The key to the success of the Extreme Vaporizer is the upright Cyclone Bowl. The Cyclone Bowl and Cyclone Tuff Bowl are rated as some of the top chamber bowls on the market, as they are all heat tested lab grade glass, have a rubber stopper and a safe holding spot. The bowl stands vertically allowing the air to be distributed evenly and efficiently. The remote is also very useful. It enables you, for example, to spend the time with your guests, while remotely turning the vaporizer on and off. Also since no other vaporizer comes with a remote control, it constitutes one of the many competitive advantages of this system, especially since the remote does come with pre-programmed buttons that make the whole experience just so much more convenient. The remote includes buttons for on/off power, fan speed, temperature, timer, and the LCD light on the base. Also, one more thing worth mentioning is that the Q in "Extreme Q" Vaporizer stands for "quiet". It is a very well engineered device that truly honours the Canadian standard!
Heating Time
The EQ takes on average 2-3 minutes to heat up. This unit allows for optimal vaporization to be achieved quickly with a temperature range that goes from 0 - 260 degrees Celsius (0 to 500 degrees Farenheit). The cool down time is approximately 5 minutes.
Efficiency/Effectiveness
Since the Cyclone bowl allows for perfect vertical airflow, the vaporization is perfectly thorough. The glass cyclone bowl allows enough airflow for even vaporization.