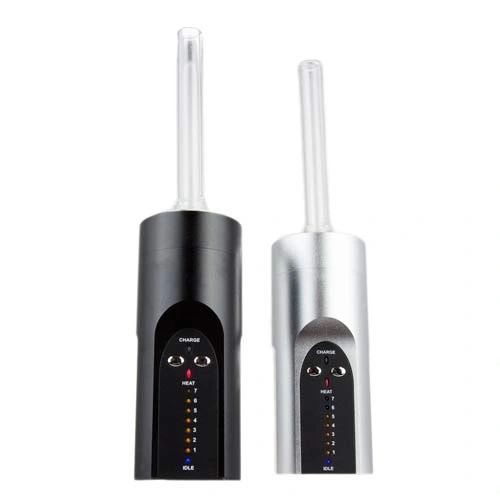 Arizer Solo
Key Features
For Aromatic Blends
Excellent Vapour Quality
Simple Operation and Maintenance
Durable Ceramic Heating Element
Maximum Temperature: 210C
Quality Glass Draw Stems
2x Tube Caps
User Profile
The Solo vaporizer is the ideal choice for individuals in search of maximum vapour quality in a portable vaporizer. This on-the-go vaporizer is very easy to use and maintain. This is also a great portable for individuals that often vaporize in a home setting. TheAirzer Air is the next generation model of the Solo for individuals that are looking for a more portable option.
Package Contents
Solo Vaporizer
Straight Glass Draw Stem
Bent Glass Draw Stem
Glass Potpourri Bowl
Battery Charger
User Guide
Components Quality
The Arizer Solo portable vaporizer comes standard with an auto-shut off feature. Solo  diffiusers display how much battery is remaining every time it is turned on. The battery life on Solos is very long and runs up to 1.5 hours on one charge. The temperature flexibility on this device determines the thickness of vapor, and the ceramic heater in combination with the glass aroma tubes offers an exceptionally pure vaporizing experience. The vapour quality produced from the Solo as a result is undoubtably the Solo's competitive advantage. Additionally, the full aluminum matte housing of this unit provides exceptional robustness and quality. The glass aroma tubes are manufactured to precision by hand and the borosilicate glass is hard to break and cheap to replace. The LED light display is very visible while providing maximum discreetness in all environments.
Heating Time
This Arizer unit's high quality heater takes an average of 1.35 minutes to heat up. The high quality Lithium Ion Battery is reliable and charges within 3-4 hours. The Solo is capable of showing you how much charge is still left on the unit. With a full charge you can reload and vaporize anywhere between 10-14 sessions. Since it provides more than a days worth of vaporizing capacity, overnight charging can have the Solo ready for the next day.
Efficiency/Effectiveness
Since the Aroma Tubes allow for perfect vertical airflow, the vaporization is perfectly thorough.