Aspire Atlantis/EVO Replacement Coils - 5pcs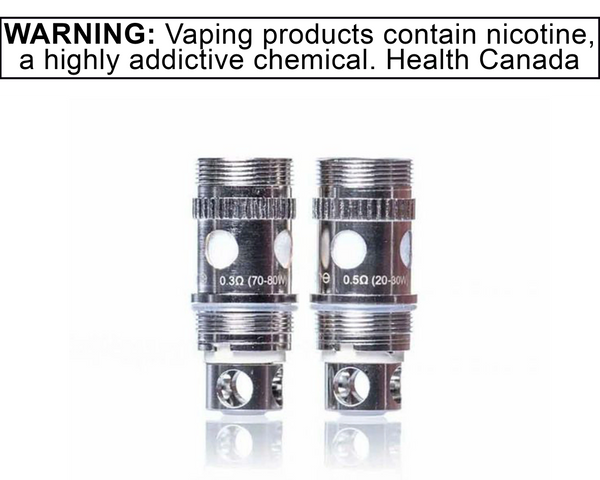 Aspire Atlantis/EVO Replacement Coils - 5pcs
The second genration Aspire Atlantis Subohm replacement coil is available in 0.3, 0.5 and 1.0 ohm resistances and offers upsized wicking holes and premium organic cotton wicks.  The powerful chimney style vertical coil is back and remains American-made.  
- Patented Aspire BVC technology
- Wire made in USA
- Huge vapor production
- Unbelievable flavor
ASPIRE REPLACEMENT COIL ADVISORY:
Aspire is transitioning from regular cotton to organic cotton on all of their atomizer and replacement coil heads.  While the packaging of the replacement coils is not changing, the coils themselves will be made with organic cotton from now on.  There are a few ways to tell whether your Aspire Replacement Coil box contains organic cotton coils or the older style cotton coils:
Some replacement head packages come with an advisory card inside which indicates that the replacement heads are made with organic cotton. 
 Look at the foil on the blister pack containing the replacement heads.  If it reads only "Aspire" on the foil, the coils inside are the older type.  If the foil has any other instructions, or if "organic cotton" is written on the foil, the package contains the newer, organic cotton heads.
The wicking holes on the new, organic cotton heads are larger than the holes on the older, non-organic cotton heads.  A side-by-side comparison of the old and new heads will let you see the difference.
The packaging for newer Aspire Atlantis replacement has checkboxes on one side showing the different resistance levels the heads are available in.  If you see these checkboxes on the side of your Replacement Coil box, it means the newer, organic cotton coil heads are inside.